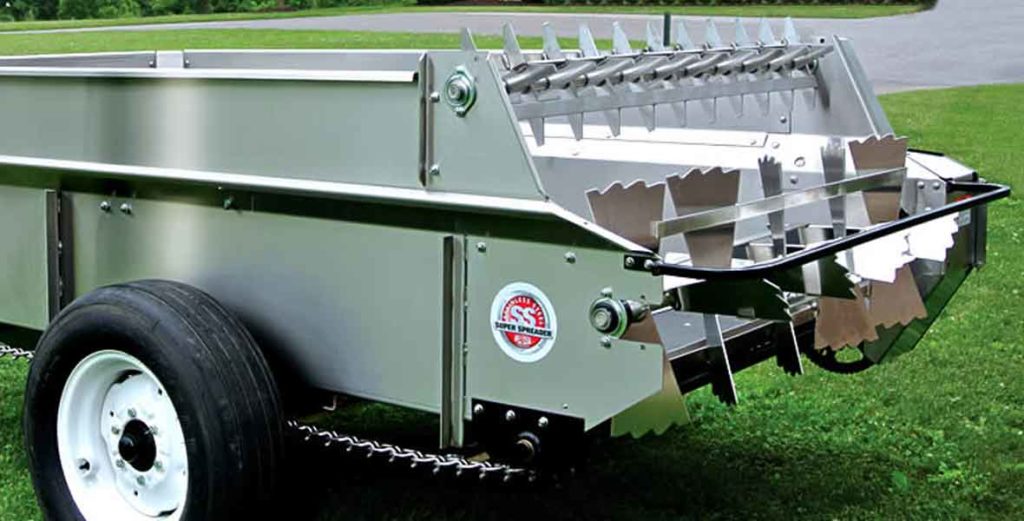 With so many types of manure spreaders out there how do you know which one is right for your farm? Different manufacturers use different types of metal in their machines with galvanized sheet metal, painted or powder-coated metal, or stainless steel being the most common.
At Millcreek we offer machines made from all three types of metals listed above, however, we believe that the best choice for a manure spreader, regardless of application, is stainless steel. Read on to find out why.
Three Reasons Why You Should Choose a Stainless Steel Manure Spreader
It Resists Corrosion
Anyone who has worked with manure knows that it is highly acidic. The acid in the manure contributes to rust and corrosion. With stainless steel you don't need to worry about either. And, Millcreek's no-rust lifetime warranty guarantees no body or floor rust through. Every one of our manure spreaders features a no rot, no rust poly floor, providing you with a long-term, low maintenance solution.
It's Durable
Stainless steel is one of the most durable metals on the market and is highly resistant to normal wear and tear. You can rest assured that scratches and dings in the body of your manure spreader won't turn into holes or areas weakened by rust.
It Eliminates Daily Spreading
The durability and resistance to corrosion of stainless steel eliminates the need for daily spreading. Other types of metal will corrode quickly if manure is stored over long periods of time. But, with a Millcreek stainless steel manure spreader you use your spreader as a holding bin for days or even weeks at a time. With our stainless steel models, you never have to worry about damaging your machine.
Ready to Consider a Stainless Steel Manure Spreader for your operation?
If you're ready to learn more about our superior all-stainless-steel manure spreaders, contact us today. With six models to choose from, our expert staff is ready to help you find the right one for your unique application. We look forward to hearing from you!