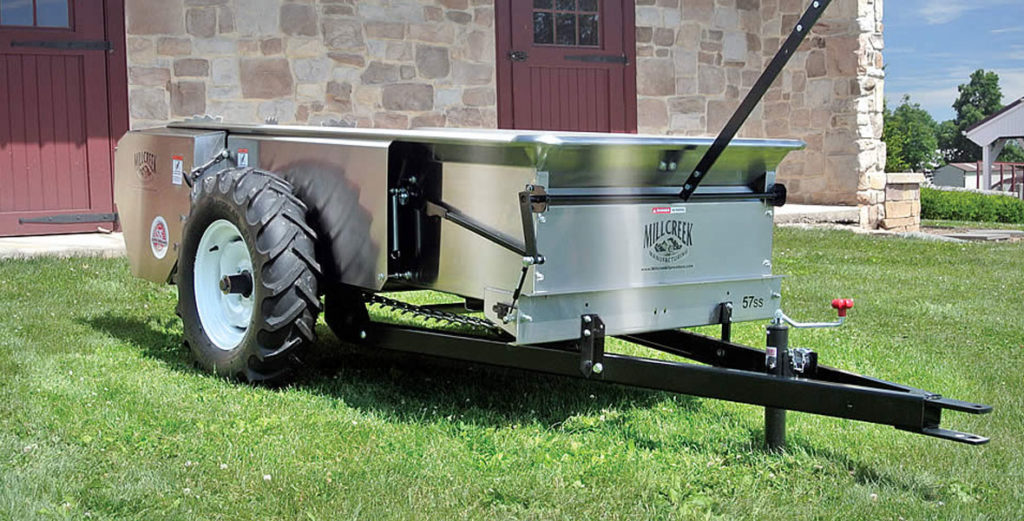 Anyone who owns a horse, hobby, or small dairy farm knows what a chore cleaning out stalls, and loading and spreading manure can be. But what if there was an easier way? At Millcreek, we know these daily tasks, while necessary, can eat into precious time with family and friends, and take time away from chores, hobbies and other important projects. Read on to find out how purchasing a Millcreek manure spreader can help you get some of that time back!
Opt for Stainless Steel
With traditional manure spreaders, you must spread every day to avoid damage to your spreader. The acid from manure corrodes metal components which can cause lasting damage to your machinery. Our premium stainless steel manure spreaders, however, are designed to not only spread manure, but to store it as well. This eliminates the need to load your spreader and spread your manure on a daily basis.
Eliminate Daily Spreading
With our stainless steel spreaders you don't have to worry about rust or corrosion, because at Millcreek, we offer a no-rust lifetime warranty that guarantees against body and floor rust. The durability and resistance of our top-of-the-line stainless steel spreaders eliminate the need for daily spreading. And, because they double as a holding bin, they allow you to store your manure for days at a time without damaging your machinery – allowing you to spread when it's convenient for you.
Choose the Right Size for Your Operation
Whether you are a small hobby farm or a larger dairy farm, Millcreek has the right size stainless steel spreader for your operation. All of our spreaders are designed to handle spreading manure for horses and other animals, as well as other materials such as straw and hay. And, they are kind to your back with low flared sides for easy loading.
Compact Models
Our compact models are perfect for the small horse or hobby farm. Meant to handle manure for up to 6 animals, our compact size spreaders are designed to make your life easier and are available in two models with a heaped capacity of 28 to 37.3 cubic feet. Click here to check them out.
Mid-Size Models
If you own up to 20 animals, our mid-capacity models are the right choice for you. Both models in this category are available with ground drive or PTO (Power Take Off) drive to work with tractors. The larger of our two models in this category is ideal for a small dairy farm, larger stables and for spreading bulk materials such as wood chips. Click here to see these spreaders.
Full-Size Models
If you own a dairy farm or a farm with 20+ livestock, our full-size models are the ideal choice for you. With higher sides for extra capacity, a reliable PTO power train, and an upper beater for high efficiency spreading, these models are the perfect solution for a busy farm. Click here to see these spreaders.
Ready to Learn More?
With a stainless steel spreader from Millcreek you can say goodbye to the backbreaking work of daily spreading and say hello to peace of mind for your farming operation. Our knowledgeable staff of equine and farming experts look forward to helping you choose the right spreader. Contact us today! We look forward to hearing from you.